Redevelopment
Housing, offices, activities and shops
In December 2021, Ginkgo acquired a 5.2-hectare shipyard, called "Oranjewerf", located on the north-eastern banks of the river "Het Ij" in Amsterdam, the Netherlands.
The Noord district is currently linked to the city centre by a road tunnel, buses and the metro, as well as by a large fleet of boats offering pedestrians and cyclists a free 5-minute crossing of the river IJ.
The shipyard is currently leased and operated by Damen, with a lease ending in 2025. The architects have developed an ambitious initial 128,000 m2 mixed-use concept, "The Nautical City", which includes housing, offices, activities and shops.
The site is currently contaminated with asbestos, heavy metals and hydrocarbons. Decontamination will involve removing asbestos from the buildings to be demolished, decontaminating the soil and pumping and treating the polluted water.
Image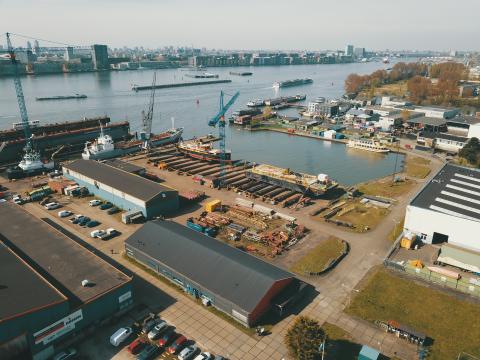 In terms of sustainable development, ORG and De Wijde Blik are leading the consultation and co-creation process with stakeholders. The interviews began in 2022. The results are being fed into the SOLV platform and workshops will be held in November 2023.
Major improvements to the site are being studied as part of the NCFF. The project proposes to create a "green corridor", provide access to water and introduce integrated rainwater management. The site is also to be raised to allow the excavated soil to be reused.