Former use
Thermoelectric power station
Redevelopment
Residential buildings, senior citizens' residence, offices and business buildings.
Program
The former thermoelectric power generation complex, which covers 6.5 hectares, is located to the east of Porto, on the north bank of the Douro, Portugal's main river and one of the most important on the Iberian Peninsula.
The site has excellent road and public transport links. The historic centre of the city of Oporto (listed as a UNESCO World Heritage Site in 1996) is 2.3 km away.
Internationally renowned Portuguese architect Eduardo Souto de Moura was commissioned to develop a 77,257 m² mixed-use project with a strong residential component. The programme includes residential buildings, a senior citizens' residence, and office and business buildings.
Image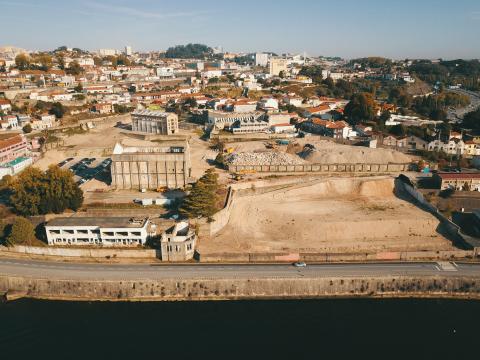 Although some outstanding buildings will be retained and restructured, the project will involve a significant amount of demolition and the processing of 80,000 m3 of excavated soil.
The circular economy is one of the strong points of this project, thanks to the on-site reuse of unpolluted excavated soil to adapt the topography of the plot, as well as the rehabilitation of historic buildings and the reuse of elements such as the granite paving stones from the old factory.
In addition, the project is benefiting from technical assistance under the NCFF, aimed at increasing the biodiversity and climate resilience of the project through nature-based solutions.